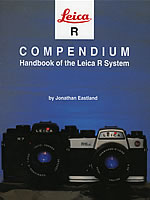 LEICA R COMPENDIUM
by Jonathan Eastland
Handbook of the Leica R system; user's guide to the whole Leica R system from its inception in 1965 to 1996. From handling to usage. With all the many lenses and accessories in detail and well illustrated.
255 x 195mm. 186 pages, 16 colour. 160 b&w pictures. Hardbound.
ISBN 1-897892-07-2. Price £29.95 plus postage.
Buy this book now! Select your postage area;

price shown includes postage

.
UK £34.44

Europe £38.94

Rest of World £40.43